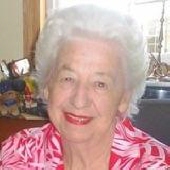 Obituary for Ulloa Delores Evans
Ulloa Delores Evans

December 24, 1927 March 30, 2017

Salem, Oregon

Ulloa Delores Evans, 89 of Mt. Angel, OR passed away peacefully on March 30, 2017, surrounded by her loved ones at the Salem Hospital, Salem, OR.

The youngest of five children, Ulloa was born December 24th 1927, in San Francisco, CA. Ulloa spent most of her younger years in the Mt. View, CA area. She graduated from Mountain View High School in 1945. After finishing high school she declined a scholarship to Stanford University and a job with the FBI to marry a handsome man with wavy red hair, who skated up to her at the local roller rink and stole her heart. Lyle and Ulloa wed Nov 9th 1946 in Mountain View, CA.  Soon after they had their first child William and four more followed, Lynn, Eric, Norman and Elaine.

In 1972, Lyle and Ulloa moved to Grants Pass, OR.  Ulloa's first job in town is where she met a lifelong friend Marjorie Cummings owner of Marjorie Cummings Realty and then worked for Prudential Sherm Heater realtors until retirement.

In 2008, sadly after 62 years of marriage, Lyle passed away followed shortly by their son Norman.  Ulloa moved farther north to Salem, OR, to live with her daughter, Elaine and her husband.  In 2010 she moved into Assisted Living in Mt.  Angel, OR at the Providence Benedictine Orchard House.  Ulloa met wonderful friends and was an avid reader of "Mystery Novels".    Her days were filled with solving multiple crossword puzzles, listening to her favorite music and finishing that jigsaw puzzle on her table.

She is survived by her sons William and Eric Evans of Grants Pass, OR, daughters Lynn (Evans) Morrison and husband Denis of Sonora, CA, Elaine (Evans) Luth and husband Dave of Salem, OR.   Also surviving are nine grandchildren and eight great grandchildren.

She was an amazing and caring person to her family and friends.  Ulloa's smile and laugh will be greatly missed.

In lieu of flowers, send donations in her name to the March of Dimes Foundation at marchofdimes.org

 At Ulloa's request, no services will be held.

Ulloa is to be placed alongside of her husband at Eagle Point National Cemetery in Eagle Point Oregon on Friday April 7, 2017 at 1pm.

Arrangements entrusted to Weddle Funeral Services.