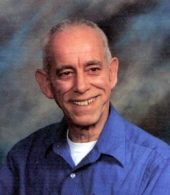 Obituary for VERNON DALE CHADWICK SR.
May 20, 1938 September 7, 2012
Salem, Oregon

Vernon was born in Cheyenne, Wyoming to Alvin and Geniveve Chadwick.  He passed away peacefully on Friday, September 7, 2012 at the age of 74.  Vernon is survived by his wife Maria, children; Vernon Jr., Karen, Christina, Diane and Rose, and many grandchildren and great grandchildren.  In his remembrance a service will be at Mt. View Wesleyan Church in Aumsville, Friday, September 14, 2012 at 11:00 a.m.

Arrangements entrusted to Weddle Funeral Services Stayton, OR.