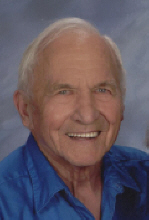 Obituary for VICTOR EMIL CHRISTENSEN
July 18, 1917 November 9, 2012
Mehama, Oregon

Victor Emil Christensen, 95, of Mehama passed away November 9, 2012 in Stayton at Lakeside Assisted Living Center with his wife Joyce at his side. Victor was born to Soren Christensen and Sena (Anderson) Christensen on July 18, 1917 in Askov, MN the second of four children. An Army veteran of WWII, Victors talents for baking breads, pastries and cakes were discovered. He was assigned the head baker in the kitchens of several Army bases including Camp Pendleton, where he was proud to have the responsibility of cooking and baking tens of thousands of soldiers a delicious meal and dessert before shipping out for the fighting in Europe. Between 1956 to 1976, Victor was baker and owner of four seperate bakeries in Rochester, MN, Atascadero, CA and Cottage Grove, OR. October 1964 Victor bought a large farm outside Lebanon, OR where he raised cattle, and pigs; grew and harvested wheat, oats, barley, and hay. In 1973, Victor planted his first Christmas trees that began his next career. He was a member of the Oregon Christmas Tree Growers Assoc. In 1976, Victor dedicated his time to growing Christmas trees and selling them on his lot in Fremont, CA until he retired in 1998. On June 25, 1983 Victor married his beloved Joyce (Wilcox) Christensen. She worked by his side trimming, harvesting and selling the Christmas trees. They retired to their dream home on the Little North Fork River in Mehama, OR. Victor and Joyce lived their life together enjoying dancing, camping, traveling abroad. Victor is survived by: Beloved wife, Joyce Christensen; sister, Edna (Christensen) Edwards; daughters, Bonnie Ficken (Mike), Grand Marais, MN, Elaine Woodruff, Blue Earth, MN, Ava Jan Grauer (Dennis), Sheridan, Roxann Donaldson, Almont, MI, Gail McDaniel (Edmond) and Tammy Christensen both of Lebanon; nephew, Ford Edwards; niece, Valerie (Edwards) Wildman (Daryl) of CA; 8 grandchildren; 6 great grandchildren. Daughter, Vicky; parents, Soren and Sena; sister, Alma; son-in-law, Mickey Donaldson; and brother, Herman, preceded Victor in death. Services are Friday, November 16, 2012 at Stayton United Methodist Church at 2:00 pm.

Arrangements entrusted to Weddle Funeral Services Stayton, OR.