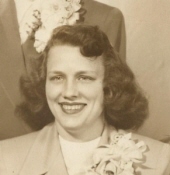 Obituary for VIOLET R. MEYER
October 5, 1930 October 6, 2014

Resided in Salem, Oregon

It was an early day in October 1930, when John G. Kennedy and Judith Elnora Forsling Kennedy of Sioux City, Iowa gave birth to a daughter as beautiful as all God's flowers. They named her "Violet". As the years unfolded, Mr. and Mrs. Kennedy realized that Violet was as mischievous as she was beautiful. Her father John would often joke, "I walk Violet to school at West Jr. High, watch the front door close behind her and the back door open in front of her, and away she would go." In her late teenage years Violet met the man of her dreams, Ronald John Meyer. In 1948 Ronald moved to Silverton, Oregon and shortly after requested Violet join him and become his wife. Violet worked for Bell Telephone in Salem as a telephone operator for 20 years. Together on a large farm in Turner, Oregon they built their dreams and raised six children; Dennis Meyer of Salem, Rhonda Harsted of Salem, Raymond "Scott" Meyer (deceased), Angela "Angel" Becktold of Salem, Sherry Martin (deceased), and Gary Meyer of Marion. Violet also had 15 grandchildren, several great-grandchildren, and many great-great-grandchildren. Violet was immensely loved and will be missed by her family, friends, and all that knew her. Viewing is Thursday, October 9 from 9:00 A.M. to 5:00 P.M. and funeral service is Friday, October 10 at 2:00 P.M., both at Weddle Funeral Chapel in Stayton. Tall tales and a memory potluck to follow at the Meyer Residence. 

Arrangements entrusted to Weddle Funeral Services Stayton, OR.