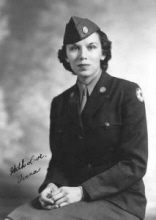 Obituary for Verna Francis Waldrop
Verna Francis Waldrop

Sept. 9, 1921 Nov. 9, 2014
Aumsville, Oregon

Verna F. Waldrop was born in Pleasant Hill, Missouri on Sept. 9, 1921. She passed away on Sunday, Nov. 9th in Salem, Oregon. She was 93. Verna was the daughter of John and Violet Rosanbalm. Verna served in the US Army during WWII and received a campaign medal, a Bronze Star and a good conduct medal. She was married to Andy Audy Waldrop on Sept. 6th 1946 in San Diego, CA. She received her Masters degree in education and worked as a 3rd grade teacher for 15 years while living in Missouri. She was a member of the Retired Teachers Association. She enjoyed sewing, needlecraft and was an artist of cross stitch and quilting.   She was a member of the Old Primitive Baptist Church. She moved to Aumsville in 2008 to be near her daughter. Verna is survived by her beloved husband, Andy of Aumsville; son Audy Darrel of Indiana; daughter, Laura Rossiter of Aumsville; granddaughters Dawn Rossiter and husband Stewart Reed of Portland and Lindsey Borstein and husband Josh of Akron, Ohio and grandson Andrew of Columbus, Indiana.

Funeral services will be held at 2:00 pm on Friday, November 14th, 2014. Vault interment will follow with military honors at Lone Oak Cemetery in Stayton, Oregon.

Arrangements entrusted to Weddle Funeral Services Stayton, OR.