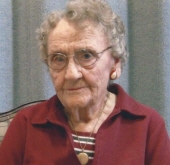 Obituary for Veronica M. Gustin
Veronica M. Gustin

November 19, 1907 February 10, 2014

Veronica M. Gustin a former longtime resident of Kalispell, Montana died February 10, 2014 in Sublimity, Oregon at the age of 106.

Veronica was born November 19, 1907 in Briggsville, Wisconsin to Thomas and Ilene (Maher) Joyce. As a young child her family moved to Geraldine, Montana. She attended school in Geraldine and the University of Montana. She married James E. Gustin in 1932 to which a son, Keith was born in 1935. The family moved to Kalispell in the late 40s to establish the Kalispell Feed and Grain which they operated for many years. Upon their retirement they spent their winters in Mesa, Arizona.

Veronica was very dedicated to her family and was an avid golfer and bowler. Many golfers in the Kalispell area attributed their skills to her instructions. She was a self-taught golfer and always enjoyed helping others with their game. During her golfing days at the Buffalo Hill golf course she won 9 Club championships and one Labor Day tournament. She was a 6 time Montana State Womens Senior Champion and also won many tournaments of the surrounding golf courses. After an illustrious golfing career spanning 47 years, Veronica was inducted into the Montana State Hall of Fame. In Arizona she kept up her winning ways and in 1991 at the age of 84 became the Super Senior Champion of the Arizona Womens Golf Association.

Veronica was preceded in death by her husband, Jim of 50 years, son Keith and brother R.T. Joyce. She is survived by her grandson Jim, Great grandchildren Ella and Eric and former daughter-in-law Marie Griffith all of Stayton, Oregon. Phyllis Ennis, sister-in-law of Kalispell, nephews Jim (Margaret) Joyce of Miles City, Bob (Sherry) Joyce of Kalispell.

A graveside service is pending in Kalispell, Montana.

Arrangements entrusted to Weddle Funeral Services Stayton, Oregon.