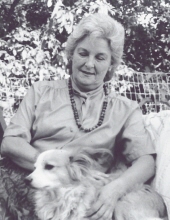 Obituary for Virginia Darlene Bradshaw
Virginia Darlene (Hackett) Bradshaw was born on March 17, 1938 in Fosston, Minnesota to Robert Charles and Allie Bertina (Jacobson) Hackett. She moved from Minnesota to Sioux Falls, South Dakota with her family when she was very young. Then they all moved to Springfield, Oregon where she attended Bratten Elementary and Roosevelt Junior High, then onto Eugene, Oregon where she graduated from Eugene Junior Academy. After graduation she married and relocated to Seattle, Washington where she raised her family. After her divorce she headed south to Imperial Beach, California for several years to be with her sister before returning to Lebanon, Oregon and settling down. She remained a resident of Lebanon, Oregon for approximately the last 40 years.

Virginia worked mostly in retail sales and management, she also owned "Yard Friends & Company," a ceramic shop on North Santiam. She loved hummingbirds and was known for rescuing animals. Over the years she rescued hundreds of stray cats and dogs, when possible would help to find them forever homes. Besides helping animals, she would also crochet baby blankets and afghans for hospitals and the F.I.S.H. organization. Virginia not only had a big heart for animals, she also wanted to help people, and she would do such things as donate blankets, clothes and shoes to those in need.

On August 17, 2019 at 81 years of age, Virginia passed away in Lebanon, Oregon surrounded by her family. She was preceded in death by both of her parents. She is survived by her children. Ricky Lee Bradshaw, Tammy Sue Bradshaw-Gurwell, Randy Lee Bradshaw and Ron (Richard) Lee Bradshaw; a sister Gail Carolyn Hackett-Gauvin; 11 grandchildren, 16 great grandchildren and 6 great-great grandchildren, all of whom will miss her beautiful smile, sparkling eyes and generous heart.