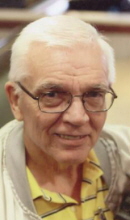 Obituary for WILLIAM C. (BILL) McCREADY
May 29, 1943 Dec. 19, 2012
Scio, Oregon

William C. (Bill) McCready, 69, of Scio, passed away at his home in Scio, OR after a long illness.

He was born in Aberdeen, WA, on May 29, 1943, to John and Betty McGuire, and shortly after was adopted by Ivan and Ida McCready.  He graduated from Stayton High School in 1961, and attended OCE (WOU), OSU and Chemeketa Community College.  He retired as the Chief Refrigeration Engineer after 49 years at NorPac Foods, Inc. in Stayton, OR.

Bill was a committed follower of Jesus Christ, not only in words and deed, but in heart and soul. He was a member of Scio Baptist Church for many years, serving as Deacon for many years and Commander of AWANA Clubs.  Active in the community, he served on the Scio School Board for over 23 years; the Scio Fire Board for 9 years; Oregon State Foster Parent Board; Cascade Foothill Squares Dance Club Board; Oregon Connections Academy Board; Toastmasters; Scout Master for BSA; worked as a Reserve Officer for Stayton and Linn County Deputy Sherriff; was a volunteer for the Scio Boy's and Girl's Club; and the Technology Department for the Scio School District. He loved the outdoors and especially fishing!

He married Sharon Bolman McCready on January 27, 1967, in Seattle, WA.

Bill is survived by his wife, Sharon and his 4 children:  William P. (Bill) McCready, Timothy A. McCready, Rebecca S. Fink, and Benjamin C. McCready; his 9 grandchildren: Liam Fink, Mac McCready, Ana McCready, Ally Fink, Ian McCready, Rachel McCready, Zoe McCready, Isabelle McCready, and Xander McCready; his 2 sisters: Suzy Bates and Gloria Rodgers.  He was also a Foster Parent to numerous children.  Those immediate family members who have preceded him in death: Benny McCready, Carolee Bay, Marveen McCready, and his parents.

Visitation will be held on Friday, December 28th from 6 – 8 pm at Weddle Funeral Chapel, Stayton. Funeral Service will be held on Saturday, December 29th at 2:00 pm at Salem First Church of the Nazarene, 1550 Market St. Salem, OR.

Memorial contributions to Camp Tadmor.

Arrangements entrusted to Weddle Funeral Services Stayton, OR.