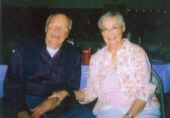 Obituary for WILMA AND IAN MACKINTOSH
Wilma Jean "Jeanne" Mackintosh

August 17, 1934 July 22, 2014

Jeanne was born in Rock Springs, Wyoming to Florence (Moon) and Harry Crofts. She graduated from Rock Springs High School and received a Dental Assisting Certificate. She moved from Rock Springs at age 18 to Los Angeles.   She had worked as a Switchboard Operator at the Children's Hospital, a Dental Assistant and Seamstress. She then moved to Orange County and finally to Dana Point in late 1960s. She was a member of the Laguna Festival of Arts Association and Santiam Senior Center. She was an Artist in painting, pottery and sculpting, crafts and sewing. She enjoyed bicycling and traveling earlier in life, reading and movies. Jeanne was a good friend, wife, sister, mom and grandma, patient and kind. She loved kids! She always took time when you needed it.   Jeanne was conservative in her ways and appreciated her home and the life she and her husband shared. She is survived by brother; Dennis Crofts. Jeanne is preceded in death by brother; Charles, sister; Lana and her parents.

 Ian McKinley Mackintosh

April 23, 1920 – July 25, 2014

Ian Mackintosh was born in Calgary, Canada to Jessie Cattanach and Duncan Alexander Mackintosh. He moved from Calgary to California in 1923. He graduated from North Hollywood High Class of 38 and worked as a Carpenters Apprentice with Paramount Studios 1940 – 1942. He worked on many Hollywood Studio sets, built several homes with parents (who were also carpenters), worked through Carpenters union until retirement, and was self- employed later in life, finish carpentry was his specialty.  Ian was always drawn to wheels that turn! He loved riding his bicycles and motorcycles, and did daily until age 82. He loved to travel and he passionately studied the art of singing and preservation of recordings and home movies later in life.

He was a member of the Santiam Senior Center, and also having served in the US Navy during WWII he was a member of the veteran group @ senior center. Ian was a kind Father and patient man who loved to be busy, and enjoy life, and those around him. He loved his home, and his family   He loved the hot sand at the beach, and the air blowing by him on an early morning ride in the crisp air. He was conservative and believed in the simple things in life.

They were married on September, 7, 1966 in Carmel, California and moved to Oregon in 2008.

They are survived by children; Ron Mackintosh, Kevin Mackintosh and Catherine Nash, Grandchildren; Greg, Markus, Jason and Kameryn Mackintosh Keanan and Emily Nash; Great Grandchild, Thomas Mackintosh.

A Celebration of Life for Jeanne and Ian will be held on Sunday, August 17th (Wilma's birthday), 2014 at 12:00 noon. We will be gathering for a Pot Luck Picnic at Early Settlers Park in Sublimity @ City Hall. Please bring your own lawn chairs and a dish to share. Memorial contributions may be made to Santiam Senior Center.