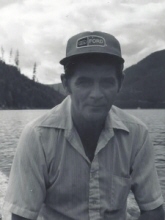 Obituary for Wallace Wally Waters
February 14, 1931 – March 29, 2014

Wally was born in Brownsville, Oregon and moved to Stayton in 1933 at the age of two. He married Elaine W. Noack in September 1954 and raised four children. Wally served his country during the Korean War. After he got out of the Army Air Corp in 1953, he was a bus driver for the Stayton Public Schools and also worked at Stayton Auto Supply, D.H. Trucking, and Philippi Ford. Wally's wife, Elaine, preceded him in death in 1983. In 1985 he married Delores Neinke and was married to her for 16 years before she preceded him in death in 2001. In 2009, Wally married Sandra Overholser and she preceded him in death in 2013. Wally is survived by brothers, Richard and Peter; sons, Steven Waters of Tucson, AZ and Mark Waters of Stayton; daughters, Vicki Wanner of Stayton and Marjorie Kremer of Turner; 5 Grandchildren; and 1 Great Grandchild. Wally was laid to rest at Bilyeu Den Cemetery next to Elaine.

Arrangements entrusted to Weddle Funeral Services Stayton, Oregon.