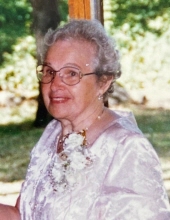 Obituary for Wanda Jeanne McNeill
Wanda Jeanne McNeill, age 91, passed away on February 22, 2020 in Lebanon.Wanda was born on October 13, 1928 in Omaha, Nebraska to Ralph and Hazel (McDonald) McKim. She spent her childhood in Hood River and graduated from Hood River High School.

Wanda married the love of her life, Gerald McNeill, in 1947. They were married until his passing in 2007. They had two daughters, Jeanne and Linda.

Wanda was a hard worker, and she loved a challenge. Over the course of her career she worked a variety of jobs. Before retiring, she worked as a Home Care Aide for 15 years, and she greatly enjoyed her work. She loved working with senior citizens, and early on she started the first Meals on Wheals in Parkdale. She also managed the Parkdale museum! She had a passion for helping others, and she loved to people watch. She also enjoyed traveling Oregon in her motorhome, crocheting, playing scrabble and cooking the fish Gerald caught when he would go fishing.

Wanda was preceded in death by her parents and her husband. She is survived by her daughters, Jeanne Lesselyoung and Linda McNeill; 9 grandchildren and 6 great grandchildren. She will be greatly missed.

Memorial contributions can be made to Meals on Wheels in Wanda's honor. At Wanda's request, no services will be held.