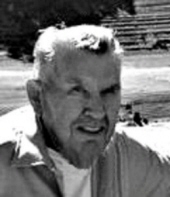 Obituary for Wilbur Edward Grossman
Wilbur Edward Grossman

June 22, 1930 February 4, 2016

Stayton, Oregon

Wilbur Grossman will finally get the rest hes earned. Over the last 85 years, Wilbur (Jim to most) slowed but never stopped. He was born in Canute, Oklahoma, the youngest of 4 children to Lawrence and Ida Grossman. When one of your earliest memories is riding a horse to school as Wilbur did, you learn right then and there to take life by the reins. And so he did. At 16, all alone and with cotton seed bags to cover holes in the floorboard of his truck, Wilbur drove from Oklahoma to Oregon. There he met up with his father and older brother in Stayton.

Wilbur raised cattle, farmed and felled trees at a Tillamook timber camp. He then received notice that the US Army needed him. Wilbur Grossman was shipped off to Korea as a member of the 430th Engineer Construction Battalion. His unit was originally sent as part of the UN contingent to construct bridges, and that they did. Before heading home, Wilburs unit tackled a new assignment to build prison compounds and guard POWs on Koji-do Island. Along with others medals, Sergeant Grossman was awarded the Meritorious Unit Commendation for the units contribution to ending POW riots on the island.

Upon his return from war, with both body and brawn intact, Wilbur built a house from the ground up. He worked hard and played hard. At a dance hall in Aumsville, he met Marilyn. They soon married and had a son, James; followed by a daughter, Karen. In 1956 Wilbur was hired at Frank Lumber Company where years later an unfortunate accident left his right leg crushed. For the next six months, he lay in a body cast waiting to heal, so he taught himself to knit. Yes, it is true. Wilbur Grossman could knit. He would give you the shirt off his back or if you preferred, he could knit you one. He returned to work at Franks then finally retired in 1994.

As happens to the best of us in our 80s, Wilburs pace slowed, but not his wit nor desire to help others. Until his final days in his earthly body, Wilbur helped his family and neighbors, mowed his lawn, cleaned the gutters, and brought in firewood to help warm the home he built 62 years prior. Wilbur Grossman knew what mattered God, family, friends, a funny (usually clean) joke, and treating folks well. Every Sunday morning, you could find him sitting in a back pew at Immaculate Conception Catholic Church where hed been a member for over 60 years.

He was preceded in death by his daughter, Karen Grossman. He leaves behind his wife of 61 years, Marilyn; his son, James; 2 grandsons, Andrew and Jake; and his brother Jerome (Ike) Grossman, also from Stayton. On Thursday, February 4, 2016, God called down to Wilbur and said Well done, my good and faithful servant. Come home. Its time to get some rest. And so he did.

Prayer Vigil Rosary will be held Thursday, February 11th at 6:30 pm. Funeral will be Friday, February 12th at 1 pm. Both will be held at Immaculate Conception Catholic Church in Stayton, Oregon.

Arrangements entrusted to Weddle Funeral Services.