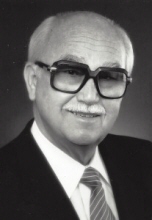 Obituary for Willard Roy Friesen
Willard Roy Friesen

October 19, 1917 – January 22, 2016

Salem, Oregon

Willard Friesen was born in Dallas, Oregon, on October 19, 1917, to John and Anna Friesen and died in Salem, Oregon, on January 22, 2016. He was 98 years old. His early growing up years were spent in various parts of Oregon. In 1928 his father moved the family to Salem to start a wooden box factory. Willard worked at the factory and attended high school in Salem.

Willard married Dorothy Couch on March 23, 1940. They had three children while he worked in various jobs in Washington, Southern California, and Oregon. His primary work was in the wood products and lumber industry. On March 1, 1961 he became owner of the Lebanon Lumber Company and successfully ran it until he sold it to Willamette Industries in 1974. He was a faithful Christian and a committed member of the Church of the Nazarene. During his years of service he served on several local church boards, the Northwest Nazarene University Board of Regents, the Advisory Board of the Oregon Pacific District Church of the Nazarene, and the General Board of the International Church of the Nazarene Denomination. In 1996 Northwest Nazarene University bestowed and Honorary Doctors Degree on Willard.

Willard was a gifted singer and participated in several music groups. He grew up in a very musical family who traveled throughout the Northwest and Canada singing in churches. Early in his adult life he was a part of the Chapel Heralds Quartet and later the Salem Singers Choir for many years. In 1970 he led the formation of The Wayfarers Quartet. The Wayfarers became a very popular Southern Gospel Quartet that recorded two albums and sang for many years throughout Oregon.

He enjoyed traveling with his wife, his family, and friends. He visited over forty countries throughout the world and traveled throughout the United States. He also enjoyed playing golf at numerous golf courses around the country, especially at the Illahee Country club course while he and Dorothy were living at Illahee Estates. Other enjoyments included vacationing at his home in Palm Springs, California, going out for lunch with his friends, watching Gaither Music DVDs and teasing people he liked. Willard had a great sense of humor and enjoyed meeting new people from all over the world.

Willard was preceded in death by his parents, John and Anna; his wife, Dorothy; his brothers, Ernie and Allen; and his sisters, Margarie, Genevieve, and Frances. He is survived by his children, Jon (Elaine) Friesen, Harlan (Gwen) Friesen, and Janis (Mike) Miller; his eight grandchildren; his seven great-grandchildren; his sisters, Helen Haselblad and Bette Krause; and a whole host of friends.

A memorial service for Willard is scheduled for Saturday, February 6, at 1:30 p.m. at Salem First Church of the Nazarene, 1550 Market St. NE, Salem, Oregon.

Arrangements entrusted to Weddle Funeral Services.