Staff
Our staff is committed to providing support, compassion, information, and direction as needed to all members of our community, their families, and friends who are dealing with loss and grief.
Weddle Funeral Service - Stayton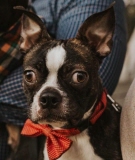 Care Bear
Grief Therapy Dog in Training
Hello- My name is Care Bear, you can call me Bear for short. I am a Boston Terrier, which means that I am bred to love people. My passion is serving families in their time of need, I'm in the process of training to become a certified grief therapy dog. This process takes about 3 years to finalize my training and pass a canine good citizen test. I'm studying very hard and take my job seriously. During my training I am learning how to get socialized with adults, children and all types of situations. At anytime when you come to the funeral home you can ask for my services. I love to quietly sit on laps and be hugged, it makes me feel a lot better and I hope it makes you feel better too! When I'm not on the job I enjoy playing with my rope and playing with my siblings Boogie, Boston and Abi.