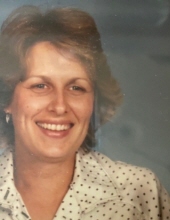 Obituary for Carol Jean Lee
Lebanon- Carol Jean Lee was born June 19, 1954, in Alton, Illinois, to George Leroy and Francis Ann ((Boston) Haley.  The family moved to California where she attended Antelope Valley High School until her Senior year when the family moved briefly back to Alton and she graduated from Alton Senior High School in 1972.  Returning to California she attended Antelope Valley Junior College for one year.  Carol married her high school sweetheart Blake Carter Lee on July 14, 1973, in Lancaster, California, and they had three children together.

Early on in her adult life, Carol worked as a figure salon manager and volunteered for a time for the National Multiple Sclerosis Society.  She also enjoyed crafting when she had time.  But her true passion was her family, she loved being a mother and spent most of her life caring for her husband and children and their home.  Carol was a very loving person and was always very happy. 

Carol and Blake moved to Salem, Oregon, where they spent 30 years before moving to their current residence in Lebanon, Oregon.  On November 18, 2020, Carol passed away in Portland, Oregon.  She was preceded in death by her parents George and Francis and her sisters Janet and Linda.  Carol will be deeply missed by her beloved family she leaves behind her husband of 47 years, Blake; children Blake Lee Jr, Amanda Ann Goodwin, and Lacey Jean Runner; grandchildren Taylor MacKenzie Lee, Colton Carter Lee, Brooklyn Paige Lee, Skylar Ann Leeth, Logan Leo Leeth, Jesse Skyy Goodwin, Brendan Lee Goodwin, Jayda Starr Goodwin, and Alex Marie Runner; and Brothers Robert and Roy Haley.