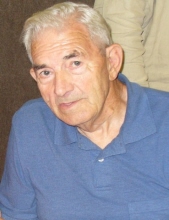 Obituary for March 1928-March 31, 2013 23
March 23, 1928-March 31, 2013

Virgil, better known to us all as Pop, passed away peacefully in his home on Easter Sunday.  Pop was born in Greenup, Kentucky to Harrison and Myrtle McFarland.  He moved his wife and 10 children to California
where he worked as a Welder for a water truck company.  There were
times he worked 3 jobs just to support his family.  After his
retirement, he moved with his wife to Oregon, where he lived for the
past 20 years in Lyons.

Pop was a very special man who worked very hard and always did all
that he could to help others that were in need.  If he saw a man
walking in the rain hed pull over and give the man his jacket right
off of his own back.  He was a great inspiration to all the people he
came into contact with and a man we could all look up to.  Pop had
many hobbies, some including fishing, playing cards, and also building
whatever he could imagine.

Pop is survived by his wife Gladys, of 65 years.  As well as 7 of his
10 children, Clay, Sandy, Pam, Lucy, Mark, Nancy and Blanche.  Also,
by many grandchildren, great grandchildren and even great great
grandchildren.  He is preceded in death by his parents, siblings, and
3 of his children, Mike, Cindy, and Rocky.

Poppy you will be missed by us all and forever in our hearts.

Arrangements entrusted to Weddle Funeral Services Stayton, OR.