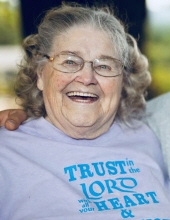 Obituary for Minnie Lillian Carpenter
Minnie Lillian Carpenter was born April 27, 1925, in Seattle, Washington, to Herbert S. and Elizabeth Violet (Pounder) Syverson. She was raised in the Portland, Oregon, area with one brother and one sister. 

One afternoon Minnie's sister, Juanita, was given a ride home by Leo Carpenter, who was home on leave from the Navy. Leo met Minnie that afternoon and after several days where he said he could not get her off of his mind, Leo asked Minnie for a date. On that first date Leo asked Minnie to marry him fearing that someone else would get her before he got home again. The two were married on March 8, 1946 and were together until Leo's death.

They began their life together in the Portland area but moved to Mill City in 1958 where they have lived ever since. Leo worked in the mill and Minnie stayed home to take care of their seven children. The family generated most of their own food by raising cows and growing a garden.  They sold milk and butter from their cows to make a little extra money. Minnie canned food for the family and made delicious meals and was a wonderful homemaker. The family would go camping each year near Elk Lake, fishing and enjoying the outdoors while Leo worked during the day and came to camp at night. 

Minnie was known for her infectious smile and incredibly kind heart. She was always thinking of and asking about others. She loved the Lord above all else and lived out her faith daily. Minnie was always active in the churches she attended. She loved babies and kids, hers as well as others, and thoroughly enjoyed her role as mother and grandmother. 

Minnie was also quite spunky, energetic and spirited, tackling life with courage and determination. She loved to get out and see different places, even just for a Sunday drive. Leo and Minnie would set out in the car every year to see the rhododendrons in bloom. She was always up for an adventure, whether it was a drive around town or a trip to Alaska. Minnie and Leo were married until he passed and she remained his girl until she entered into eternal glory. She will be dearly missed by the family and friends she leaves behind. 

Minnie was preceded in death by her husband, her parents, her sister Juanita, and her grandson Travis. She is survived by her children Leanna Kirkpatrick, Craig Carpenter, Delrena Ogg, Herb (Donna) Carpenter, Kurt (Carol) Carpenter, Armen Carpenter, and Shawn Carpenter; her brother David Syverson; 16 grandchildren; 12 great-grandchildren; and 2 great-great-grandchildren.

If you would like to make a donation in lieu of flowers, please do so to the charity of your choice in Minnie's name.


Previous Events
Memorial Service
Santiam Valley Grange Hall
1140 5th St
Lyons, OR 97358